Aubrey Vogel
Name: Aubrey Vogel
Age: 31
Background: Aubrey led an uneventful life through his childhood. Born to a large family in Ekron, he was overshadowed by his older and younger siblings, and struggled even through elementary school. In high school, he tried to ignite a passion with football and baseball, but a confrontation with a fellow player on his team where he broke their nose led to his suspension and eventual dropping out.
Aubrey worked mostly low-end jobs, such as pizza delivery and taxi service, but could never hold them for very long, due to his less-than-pleasant attitude and poor social skills. On his own, without much else but his car, Aubrey moved out east to Muldraugh, renting out a motel room in the Sunstar Motel as residence.
Continuing to meander through low-income work, Aubrey's severe depression and misery manifested into a jealousy of those around him, who he saw as being "luckier" than he was in life. One night walking home on the empty road, his lack of awareness led to him stumbling down the road and off the sidewalk, walking in front of a moving vehicle that sped through an intersection.
He survived. But the driver fled, and not a soul was around to help him. He awoke in a hospital, after God only knew how long his body was left on the ground, rescued by some driver on their morning route. As he stared at the ceiling of the hospital, he wondered if he was truly alive. Surely, God or whatever exists out there wouldn't spare him.
Surely,
there were better lives than his own, more important lives, that deserved to live.
When he was allowed to leave, he didn't believe he was alive. Not at all. He must have been nothing more than the walking dead, existing in some hell of cosmic making. When the Knox Event happened, he wondered if he was the same as them after all.
---
Topic starter
Posted : 07/02/2022 3:24 am
Aubrey opens the van's twin rear doors. As he reaches in to lift the box of empty jars, he feels the wind shutter. Above him, the season's first snowfall begins.
---
He didn't have time to return to his motel before the streets were overwhelmed. Both the living and the dead, cars leaving town as the shambling bodies of their loved ones followed the road. Those were the worst days, he thinks, because it was the halfway point between 'then' and 'now'. A cut down the middle, like an open window or a shirt with the sleeves torn.
It was on the last day of work — the last ever, most likely — and fallen leaves rolled behind every car that passed him. There wasn't as many as he thought there would be. Surely, these people valued their lives much more than to leave it to the last moment. Were they truly so hopeful that there was truth to the government's words, or even the military's? There was no control over the outbreak. He considered himself beyond the doomed news reports, for he could wake up to the end of the world on his own time. He accepted there was no salvation when he was running away from the crowded Sunstar parking lot, busy with more dead than alive, the beasts chewing on the once-living's bodies and reaching for more. Of course there was no hope. Of course there was nothing left. He knew that long ago. The world just had to catch up.
There was a couple of neighbourhoods behind the motel, near the adult education center and its surrounding stores. He ducked into a house half-boarded, the door ajar, hope spilling into the streets. There were creatures in there, the occupants having turned however long ago. He had never killed before, no matter how much he secretly confessed to himself that he could, he would, he wanted to— those fantasies made it easier to kill the walking dead. There were three of them inside the house, but they were all heavy with corpse waste and lacked the reaction speed he'd expect from a room of the living who saw him come in swinging. It felt good to grab the shovel, forgotten in the trunk bed of the car in the driveway, and it felt even better to bring it against the skull of what was once a young man, younger than Aubrey, but now a drooling beast with its teeth in its tongue. Blood splattered. He pressed down on each body, the spade against the throats, and make sure that he cut through. It was a new kind of brutality he only thought about in the darkest parts of his mind, when he couldn't sleep and stared at a mirror in the dark.
He told himself it was nothing different than killing a violent animal. Maybe more than that. He saw no flash of light in any of them, no stroke of fear as he took his swing. Nothing behind their eyes. Nothing left.
It had to have been the last of his humanity that made him fight — the final scrape of self-preservation he could find inside his hollow chest. It wasn't natural fear, the thing that pulsated inside Aubrey. But it would soon become familiar, when he would miss a swing and yet still dodge a lunging mouth or sharp, unnatural nails. The brush of death that felt more personal than his own miserable hand trying to conduct it.
But it didn't feel right, no matter how many things died for him, by him — because it wasn't right, how he still defied death in a world of shambling corpses.
Muldraugh was bereft of the living. The only familiar faces would be the pallid flesh of the dead. Frost-glass over the eyes, walking on broken bones to fulfill the new desire to feed.
---
He pulls down the bandana around his face to feel stray snowflakes fall on his gore-stained cheeks. He breathes in slow. The street outside his new home is empty, and for once, he can only hear the winds of November.
Topic starter
Posted : 11/02/2022 6:00 am
Travis leans over the open interior of Aubrey's car, who stands at the head of the driveway with a cigarette in his hand. He attends to the engine the way a surgeon does a body, carving a path and cutting inside. Travis cracks him a smile and Aubrey doesn't know if the other knows what he's doing.
"All set," the older man says, and Aubrey nods stiffly. Travis wanted to know where he was set up, and now he sees the farmstead Aubrey set up for himself. It used to belong to his neighbors as a child. He's almost certain the Ariels are dead now, too, either shot when escaping the county or eaten alive by each other's walking corpses. Only a little part of him feels guilty squatting in their house, but he knows he can't go back to his parents' house. He might break down. He might kill himself in the living room. Who's to say?
The hood of the car closes with a thunk. Aubrey flicks away his cigarette into the grass and forces a smile at Travis.
---
The words of the soldier are marked with gunfire, with their companions firing at distant corpses. He can't see their eyes, but he knows they've got bullets, carved with his name. For a moment, he wonders -- would it be so bad to disobey and face the consequences?
"She's down the road," he says, pointing towards a distant red box truck. The soldier looks down the road of Rosewood, and nods. They beckon to Aubrey to follow them into their bus, which he does, robotic and vacant.
The girl is murdered later. By the soldiers, of course. He knew he was signing a death warrant for the woman when she was being hunted by name. Aubrey gets nothing from it, of course. Only the knowledge another died before he could, cut down and left without burial. He sits in front of his radio, so graciously donated to him by a man now dead, and waits for a response to a man whom he most certainly shouldn't be selling information to, closing his eyes to the buzzing of the radio and the new-old sound of a running fridge, in the kitchen behind him.
---
"Real good to meet you Aubrey," Samuel says, Abigail and Sean entering their car once more. "Please, contact us on the radio, we'll be in touch."
Aubrey says, "Good luck with your chemo," and Samuel seems to grin.
"Thank you. I appreciate it. Stick them funky beats back on," Samuel says as he sits back into the car, staring at the back of Abigail's driver seat.
The snow is cold on his shoulders, his cheeks reddened from the blizzard's chill. He hadn't heard of the Outpost; only that some survivors were creating a hideout in Rosewood. But that was ages ago. He watches the three drive away, the cassette picking up its tune. Aubrey breathes in the icy wind. He hated the sense he was missing out on something, even if such things were beyond him. The snow crunches under his boots as he turns to his beat-up cruiser, hopping in - he feels the taste of a half-working heater on his tongue as stale air gets pushed through his van's interior.
---
Aubrey stands in the broken gate front. Behind him is the cold, empty convenience store that he remembers seeing Olivia in, weeks before.
They never knew each other - brushes with survivors in an empty world. He doubts she remembered him after he walked away from the intersection weeks ago. But there is so little within his thoughts and experiences that involve other souls, that he remembers her. The living souls of others print on to his walking corpse like water stains. He walks through the snow into the once barricaded street. She had mentioned she was a carpenter, once, when they were hiding in the same house following the devastation of Muldraugh. He left the city weeks ago, but maybe she was still here.
He enters the barricaded house through an open window in the back, half-obscured by a bloodied car. The building is barren of what makes a home, instead crammed with storage crates. The cabinets had been stripped from the walls and the sink was dark with grime and blackened ceramic. Canned food with a layer of dust. The unpleasant texture of dirt and moisture together, leaving surfaces oddly sticky. When he ascends the stairs, he finds the suggestion of a living space - a television, a bookcase, a couch - yet this, too, is filthy. It is not the same sort of decay as the buildings in the neighborhood, but it is all he needs to know that Olivia is likely dead.
He doesn't feel anything. They did not know each other, after all. She was not some cousin that he had reunited. Not some neighbor from the same street. Just a stranger. But what should he feel when entering the home of the deceased? He cannot say it is as if it was as one would leave it; the house is uninviting, the same way a barn without animals is. The way a storefront with its windows smashed warns others to not enter. Aubrey sits on the couch as January's snow falls outside. It is exhausting to defy death for so long. He lays down with his coat over him and watches his obscure shadow in the reflection of the dark television screen.
Topic starter
Posted : 18/02/2022 4:48 am
OUT OF CHARACTER
tried out artbreeder to invent a new type of guy. here's "realistic" aubrey!

Topic starter
Posted : 20/02/2022 1:56 am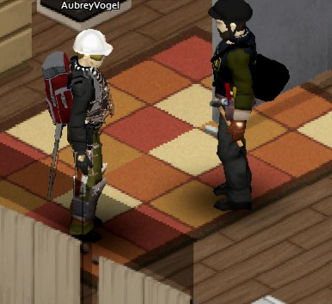 His hand hesitates over the form. Doctor Foxworthy pretends like he isn't looking over at Aubrey, and for that, he's rather thankful.
When May and her friend told him that the 'Town' had splintered, Aubrey expected most of them to be dead - not a half-hour's drive from each other. Makes him think about how easy it must be to lose other people when you have someone you want to look for. He's heard voices on his radio, people calling out to one another and praying that they meet again. He's unfamiliar with the feeling, unless you count the miserable longing he's had to join in with others. But what exists to be joined in on now? Walks through the woods for a bag you hung in a tree? Sharing a bottle of water near a dying fire before the cold puts you under for good? It's not as if they're going to talk on the radio if they reunite, now, would they?
Aubrey exhales, annoyed. It's only when Doctor Foxworthy fakes looking away again does he hurriedly write in the sentence he's stalling on, and then lays the pen down on the notepad. Not much of a medical form, but he hadn't been to the doctor's in years. Foxworthy's having to make do just like the rest of them.
"Thank you," Doctor Foxworthy says, putting the pen away and quietly folding the notepad shut. Aubrey puts his hands in his pockets, feeling the unwanted dread finally creep out of him.
"I'm going back to my place," Aubrey mutters, in a flat tone. "I'll start bringing shit over, but I'll need a car."
The doctor nods, and Aubrey laments he cannot share the same hope he has on his lingering smile. At least one of them can harbor hope.
Topic starter
Posted : 23/02/2022 3:12 am
Aubrey would go on to join the new founded Kentucky Rangers, founded between Alexander Tenpenny and Doctor Damien Foxworthy. Florian Pujol, Arthur Colville, and Howard Nelson would join the same faction, with a hope that May Forka or Caedmon Helmsby would reunite with them after the separation from their previous faction. Such a future was not seen by Aubrey, for not even the lingering hope of the doctor could inspire him to the future of reshaping Ekron, nor endear him to pursuing life in an apocalyptic world. The pull of misery dragged him below the depths, farther than any furious horde and their hungry claws, and he killed himself in the first week of April 1994.
(rip season 3 - see you all in season 4!)
Topic starter
Posted : 26/02/2022 4:47 am