August Chamberlain - ALIVE OR DEAD, I AM FREE
Name: August Chamberlain
Age: 42
Backstory: August was born to two English immigrants in New York Cityduring the early years of the Vietnam War. Though his parents opposed the war the way many Americans at the time held a distaste for the overseas conflict, August found true radicalization during his teenage years and into his young adult life, when the war ended but work against the militarized injustices against civilians was not finished. Disgusted by the violence in the name of democracy, he grew outspoken and became a quick enemy of his conservative community, especially by those who thought he was simply 'overreacting'.
In college, he excelled at his journalist career, with his dream of being able to document and report on domestic and international affairs, and the injustices perpetuated by the American government. He was arrested for participating in a protest against the United States' bombing of Libya, and later once more for a damning article he wrote regarding actions taken by the United States through Operation Condor. Condemned by the mayor of Louisville as a "communist spy", August refused to back down on his principles or code of honour & justice, despite the threats and violence he would face against those upholding the status quo.
When the outbreak began, he took himself on a tour through the rest of Knox County to investigate the cause of the sickness and to document on the military's presence in towns such as Muldraugh, West Point, and Riverside. He found infections among citizens and soldiers alike. As the situation became dire, August intended to return to Louisville for his own safety, only to discover the quarantine prevented him, and other Louisville natives, from reentry. He tried for several days to find a part of the wall he could breach, but it was as impenetrable as the secrets he was so desperate to gouge and reveal. Half delirious from days of starvation and the threat of outside zombie attacks, August left the border and returned into the rest of the county, in order to find other survivors and those he could better assist.
Personality: Hot-tempered, confrontational, argumentative; but all of that belies an unshakable sense of justice and morality. Hates the military and police. Anarcho-communist. Incredibly inquisitive and curious. He just wants to help, and if he finds the right people, he'll fight until he bleeds to keep them safe.
Topic starter
Posted : 27/02/2022 8:58 am
FACECLAIM: Bill Hader ("Barry", "IT: Chapter 2")
---
more to be added
Topic starter
Posted : 27/02/2022 9:11 am
this is going to be his pre game notes once i can bother to edit this post lmao
Topic starter
Posted : 01/03/2022 6:47 pm
4/8/99
Woke up to some guy knocking around in the house I was squatting in. Had no plans to keep anything I found in there so I let him have the mill of the place. Got sick of sitting in the dark as he rummaged for something to eat so I went outside. Heavier than it was when I slept yesterday. There was a car crash down the road that wasn't there before — must have been drawn over by the fucking idiots.
A woman was in the horde. I wasn't much help — couldn't get my head out of my ass fast enough to unpack my shit — but I'm pretty sure she's alright. Didn't catch her name, but she was swinging a pick axe like it was nobody's business. Hope I run into her again, assuming she won't put that through my fucking stomach. Just nice to see the living.
Barely anything in the police station. Busted open a cop car and relieved the rotten fucks of the shotgun in the back. After that, I met a kid named Flynn — couldn't be a day over 25, he had this tiny little stare. He's been following me around, but I don't want to just leave a kid in this mess. Said he's looking for his little sister, too, and if he's barely an adult, I hate to think about a high schooler lost in this mess. West Point is ravaged by the dead, and the living are sparse. 
We found a house to hide in but it's barely livable. Had to barricade a broken window because two of the dead cunts fell through and tried to gnaw on my dick. Food is remarkably not an issue; it's water and safety.
---
on hand:
x2 water
x5 cans need can opener found one!
baseball bat (now with nails)
duffel bag (fix the straps)
hammer
screwdriver
mossberg 500
need gas, need some better tools
Topic starter
Posted : 01/03/2022 6:59 pm
4/29/99
Lots of shit this month. United with the Goodalls and one of Flynn's old classmates, a kid named Daniel Steeple. The Goodalls are a family of four, southern hicks if I've ever seen them, but they're working on making a trading town in Dixie. I quite like it, even if I can tell I'll have to bite my tongue if one of them says some shit. Their son, Hunter, seems a bit ... childish. But I guess he's just like the rest of his family: bumbling, yet earnest.
Flynn and Daniel got their own trailers and we've been securing their side of the walls. There's some neighbours in the same trailer park - I've only met one, and she doesn't look a day over nineteen, she might even be younger. Would be surprised if she wasn't Flynn's younger sister, but I'm sure I'd be hearing about that if it was the case. Didn't catch her name, though. There's someone else in the park, but fuck if I know who they are. Almost had a scare with Kurtis' new battle bus being stolen, but it was just one of the kids trying to take it for a joy ride. Kind of weird to have so many kids around, two of them half under my care. The boys aren't my sons, but I feel responsible, at least for their safety. I feel the same for Hunter and Lynette (Goodall's kids) but they've got their parents still. Don't know where the parents are of those two kids, but I don't think it's looking good.
Anyway - been working on getting my gas station house set up. I've got the run of the building, which I'm going to be honest, I might have used a bit of age authority over them to keep it for myself. But - once I get the store shelves out of there, I've got no problem with people showing up to watch television or read. It'll be a lot of ambition, but we've been making progress. Slowly. But this is the kind of thing I wanted, back then. A place with different rules that we are creating for ourselves. Just having my own place in a fucking gas station feels better than my shitty loft in New York.
Radio broadcasts are daily, and it's not even from the government or fucking military. It's just people having full ass on conversations. Need to get one for myself. Heard about some anarchist community somewhere - need to find them. Even if I'm staying in Dixie, I want to know where my fellow radicals are.
Light reading. Looks like someone took a shit against the wall. Need to clean that.
5/9/99
You ever find yourself playing bodyguard for a twenty-something year old Turkish fisherman when all you wanted was to drag cars back to town for scrap?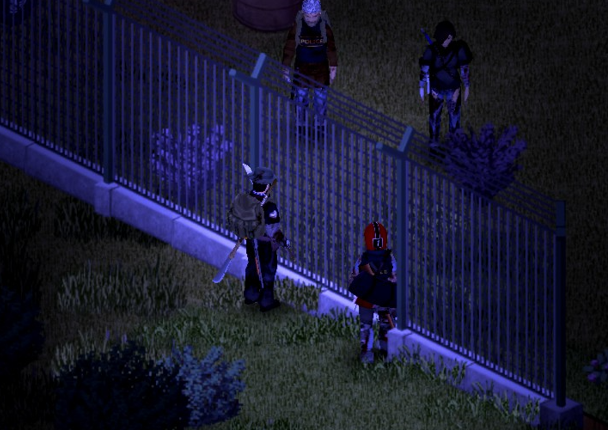 A man named Sehil came by the diner asking about the cop who killed himself. Ended up helping him find the radio tower that a couple of the cop's friends were staying at. I don't know what he expects to do, getting out of the country and back to Turkey - but I know that the trailer park can't take care of him. He was dead set on finding these people named Marilyn and Floyd. It was a shot in the dark (literally, night time came so fucking soon) but we managed to find them at the radio tower. Marilyn and Floyd were there, as well as a woman and some German guy. Seems they've got quite the place they're working on. They're taking him in, which leave something good on my conscience. When dawn came, Marilyn gave me a ride back to Dixie.
Hoping Flynn doesn't get pissed I used his truck for picking up scrap cars off the highway. I spent the good part of both days hauling the cars with parts left to salvage off the highway and into the parking lot to the south east. Going to call that place the junkyard — anyone, even those who aren't with us, can pick apart the cars for bits and pieces. Stuff you can savage for your own cars, things to break down and make scrap armour… since the walls were Flynn and Jodie's job, I knew I could help by cleaning up the highway. Everything to the east up through to West Point is out of the way!
A kid named Cheyenne delivered propane to the diner for Kurtis. Not sure which direction she came from, but I'm certain Kurtis is going to reach out to here again if his tanks ever run empty. Then, a farmer named Lazaro rolled on by, buying marijuana seeds and some tobacco bags left lying around. I intend to hit him up as a plug once he's got a farm going.
Updating myself on the week-to-week activity is kind of refreshing. Feels like I'm in school putting my agenda in little notebooks.
Topic starter
Posted : 04/03/2022 7:35 am
6/15/99
Couple people keep running through town. Some good, some bad.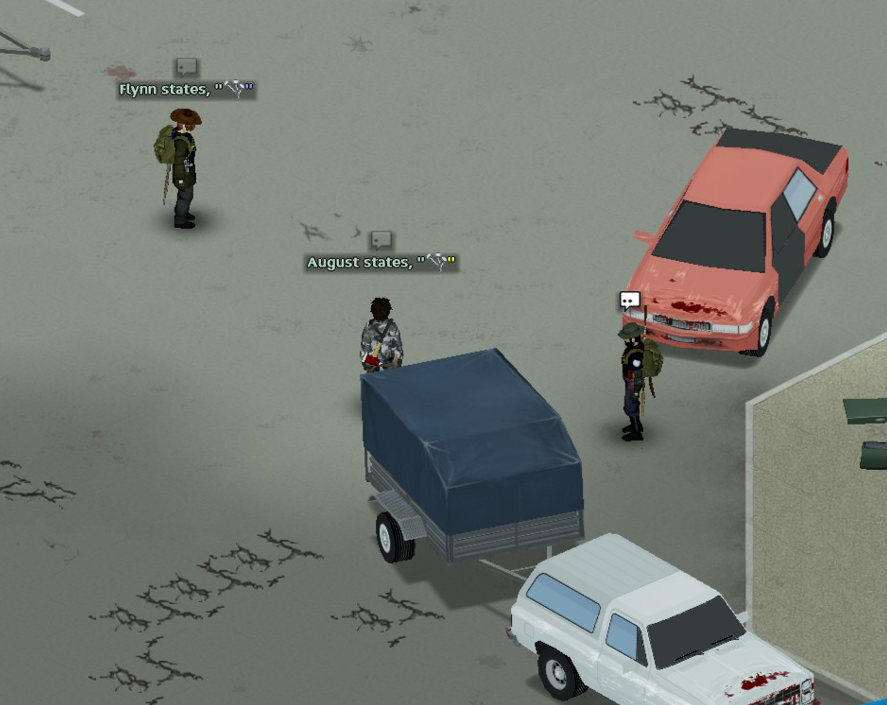 Overcome with the love of nails, we speak in languages we do not understand.
I was happy to see Sehil again. Of the various traders that have come through town, like Buster and Lazaro, Sehil's the only one who I've seen recently. Not a good sign, but the state is huge, and there's always people to trade with. He brought ammo and fish, but I was only interested in the fish. Kurtis, Jodie, and I think Cassidy hit up some ammo store and a storage unit that looked abandoned, and came back with a deadly haul, with the help of Marilyn and Abigail. So I wasn't much interested in the ammo. The fish, though... if we could get a steady supply from Sehil, we'll be eating good and healthy. Sehil wants a bunch of steel spears, like the halberd Kurtis found, in return for the fish. It's ultimately up to Kurtis to fulfill that order, but I think we've got a proper rapport with Sehil. Plus, he's a great guy. I like seeing him around.
Which leads me to the next set of trading that rolled in.
Doctor Sidney Salter called out for the Goodalls on the radio, but only I was available to answer. He swung by, and said he lives nearby Muldraugh. Wasn't super impressive; mostly trinkets, ammo which I don't need, but I did need some magazines he had. And gas is always an easy dollar to spend when you live next to the pumps. I introduced Flynn to Sidney as we were wrapping up our trade, when some scumbag named "Raff" welcomed himself in through the doors like he owned the fucking place. Claimed he knew me, which ticked me off, because I think this guy's the one who set up the road block that Viktor (Cassidy's boyfriend - Jesus, I keep forgetting to list all the fucking people I know, huh?) got shot at. Son of a bitch isn't welcome here. He wanted one of our cars, and without telling him to fuck off, I led him to the public scrap yard east of our walls. He managed to get one of the cars running, and off he went. He better not come by again. If he does, he better knock.
A few people have moved in these last few weeks - Viktor, who I mentioned, reunited with Cassidy. An old grandmother named Lena has taken up house in one of the trailers. Jolene arrived next, a young girl from out of state that has been stuck here for months without her dad. Then came Lucy, a born-again Christian from New York. Haven't gotten the chance to speak much with Lena and Lucy, but Jolene's shadowing me, probably because I was the one who picked her up in the West Point fog near the end of May.
6/16/99
hastily scribbled at the top of the page in the margins is:
Madison Delaney - Early 20s - LSU dropout
Of all the fucking places I end up, it's one with a snake rolling through the grass.
Don't know what's her deal. Haven't spoken to her yet. Covered for some woman named Ione Parker, who claimed to be US Military. Why would she lie?
Woman claimed to be in a crash. Said Madison broke her fucking leg. Liar.
Madison threatened to shoot me if I didn't go. Said others would kill me first if she didn't.
Muldraugh train station - is that relevant? Probably not. Just a location. The convoy from a few days ago, unencrypted messages about Riverside. Do I go out there? Find whoever I need?
Madison wants to talk. I'm furious.
It better not be what I think it is.
Topic starter
Posted : 08/03/2022 7:53 am
6/25/99
Mads and I spoke. I don't think I fully believe her. But I want to. She's just a kid. I know kids can get into the most sinister shit - hell, I was throwing rocks at cops when I was barely out of highschool - but I want to believe that Dixie isn't the place for a two-faced snake.
She at least agreed that the woman was a compulsive liar - the one she saved. I've got her dog tags, and I was right; it's NEST. But even if I want to chase this lead - what is there to chase? To prove that I was right back in Cleveland? To care about some dead Republican?
Maybe it's just the principle. Maybe I just want justice.
My own selfish needs, to know that I helped the old world. The one I wanted to change, regardless of how angry I was.
I still am angry.
I'm still not happy.
I still don't trust her. But I believe her. Just this once.
Who is there left to tell?
Topic starter
Posted : 08/03/2022 9:26 pm
7/14/99
All sorts of stuff: we finished the community center. Feels like it went up in such a short amount of time, didn't even have time to write it down.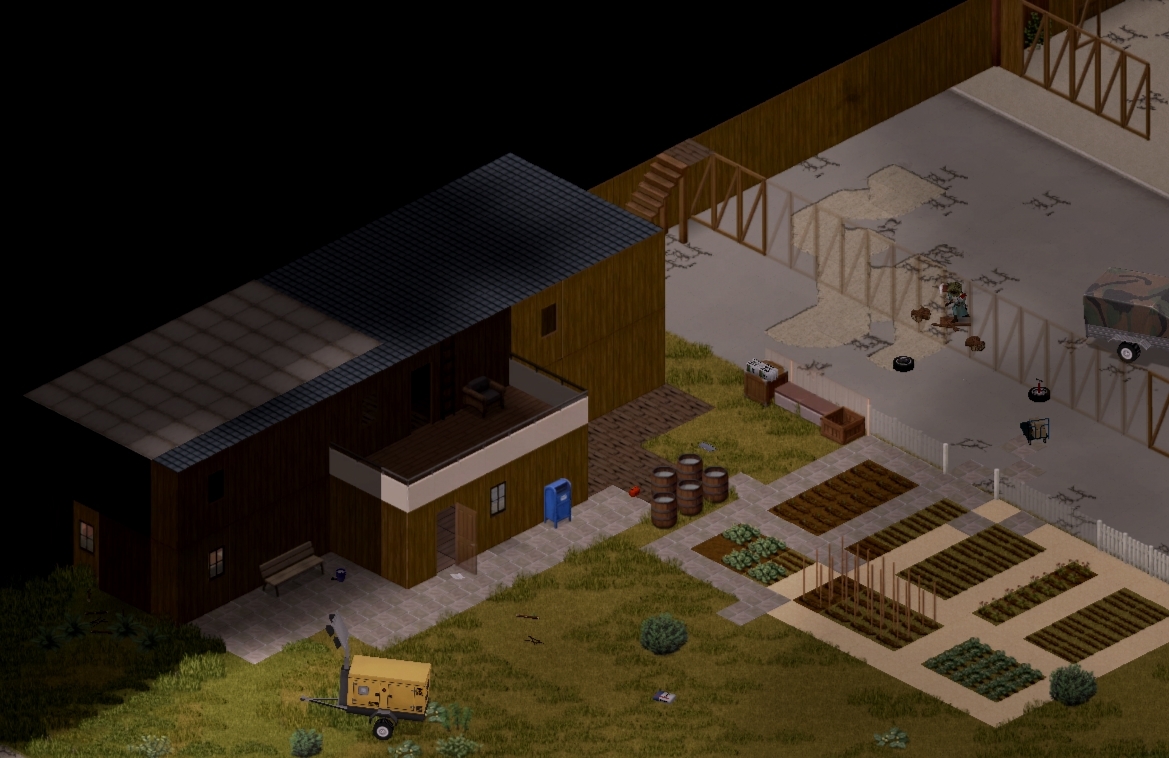 Flynn put together the walls - I put up the frames. Jolene was good company. The downstairs is going to be a little library area (we've already put stuff in there) and the open floor will be for Lucy's restaurant. Upstairs is going to be our storage area - better than things being kept inside the Goodall's diner, or scattered across all of us. I don't think we're getting the container up there any time soon, but maybe we can build a room around the back and create a wall... like a giant fridge...? I don't know. Lucy's going to start cooking for us, with the Goodall diner being a public sort of face. Walls are going up behind my house, but I'm enthused about that - means we're going to have a proper "front" and a proper "back". Make us a lot less jumpy when people just welcome themselves in. Absolutely fucking sick of that, I am.
Madison and I are on better terms (she asked me to work on her cloth gear, fixing up her backpack) but I'm still ... I don't know. It's a situation where I feel like I could be backing myself into a corner. Naively agreeing with the people I care about while they're planning something sinister. It's not that I think they're doing that intentionally, it's just-- well. I'm repeating myself, if I keep going on. A circle of doubt. But, because of this, I told Flynn that, if something were to happen to Dixie, if NEST came knocking and people pointed at me, then he should remember that they, themselves, are lying. Told him about my communist beliefs, told him I would never kow-tow to the fucking CIA, or whatever splinter cells they're hiding behind. If I'm thrown to the dogs, I want at least someone to believe me.
Did renovations on Jolene's place, not long after. We tore down the back wall, built up a whole little bedroom for her. Brought the furniture she picked out, too, which I think she really appreciated. She's a good kid. Slowly adjusting to life in this terrible world. She's taken out zeds by herself, even survived getting knocked out on a run with Lucy... Another fucking intruder welcoming himself into the gates got stuck up by Kurtis and Cassidy's guns, which unsettled Jolene a little. Hopefully she hardens up, gets a bit more brave.
Topic starter
Posted : 11/03/2022 2:04 am
8/30/99
Safe to say I trust Madison again. She has put in so much work to protect Dixie. NEST took her and John, and she still came back to tell the truth and what she'd do to protect us. I worry about her, now. But I'm glad to see she's clear about where she is, and how she doesn't want to settle in a web of deception. 
Expanded my house. Built a whole new room. Not sure what I want to do with the new space, but building it felt good. Like I was doing something for myself for a change. Flynn helped, which I always appreciate. Got my shabby wall sorted out, and even put some flooring in there. The new space, the stuff that used to be my bedroom, is going to be ... hm. Maybe a tailor's window! Madison nudged me with the idea, and Jodie seemed to like it, too. I never thought I'd really do anything with it, but if people want their stuff reinforced, I'll help them.
[picture to be added]
Then, I lost my fucking eye. 
It's taken a bit to fix up my coordination. I still don't think I can aim properly, but so long as no one's on my left, I can navigate. Hasn't slowed me down. Most people seem to be nice enough to not sneak up on me at my blind spot. The new guy (don't know his name..?) understood pretty quickly. Daniel tried to shadow me for a while to help, but I think he gets I'm a grown man. Sucks to be walked around as if anything has changed about me.
Topic starter
Posted : 20/03/2022 7:27 pm
MEMORIAL PAGE
Rest in peace, Cassidy Nelson. You should've talked to us more. I know it isn't easy to break down the walls you were forced to put up. I've never carried a body so limp before. Sheltering it against the winter's cold. Your fingers as black as my jackets. Kurtis was going to kill Mike for bringing you to us. Didn't want to admit it. One bite, one bullet. Viktor's going to cry himself to death on your tombstone.

Madison. I'm sorry, Madison. I fucked up the vanguard. I killed Sammy, I killed John. You shouldn't have gone up on that tower. If I didn't fuck up the siege. If Alejandro was still here to soak up the silence. You'd be with us. You and Hunter would be getting married. You were an honest kid. You fought for the right thing in the end. I knew you weren't far gone. I'm going to make sure no one fucks with your grave.

Flynn. It isn't fair. It isn't fair. Who did this? I'm going to kill him myself. Kurtis may have been your father. But you kept Danny and I going. Fighting back through the streets just to make sure we could bring you home. Biscuit's gonna miss you. Emma — she's safe. She's here. I promise I'll protect her. I'll rip Travis' tongue out his mouth if he cracks off again. Kurtis will have to fight me for where his head's gonna sit on our front yards.

Alejandro — you pulled the misery into your own sense of being. I know you went through some shit. I don't blame you. I really don't. I'd have pulled the trigger myself. I'd never cooperate with CIA. I'd never cooperate with NEST. I wanted to make something good for you. Because I knew you deserved more than whatever you came from. I know you might be confused why I even care. But I do. Every soul whose bled on Dixie's soil, I care about. I'll fill your pipe and roll your joints for you once we meet again. I promise, so long as you don't throw stuff at me for fucking up, heh.
He rolls on his back. His ankles are bound together. They untied his hands a few days ago. He's too tired to try and jostle the lock. He's fairly certain he's been fed from the same MRE for the last two days — the portions are smaller than they should be, and it's presented incomplete. The water is cold but has a vulgar aftertaste, like it's been opened and resealed then left for a few days. 
The building is heated but he shivers on the worn mattress. Military but unkept. It's probably a hospital one — the frame feels like it. 
The door opens. He looks at the figure that enters. He is pushed on to his back and has a flashlight turned on directly into his only working eye. The person rips off his eyepatch and looks at the dead socket. His eyelids have shut over both, but they press two fingers against his dead one and forces it open. Inside is a marble — they couldn't get a real glass eye to stop his skull from caving in.
There is no purpose to the visit. It is only to humiliate. "Seems you're recovering," they say coldly, and then push August back on to his side. Their flashlight turns off. They turn and leave the bedroom-turned-prison-cell.
August rolls on to his stomach and closes his eyes again, trying to adjust back to the dulled darkness.
Topic starter
Posted : 10/04/2022 4:20 pm