December Caudill - READY, WILLING, CAIN AND ABLE
Name: December Caudill
Age: 25
Gender: transgender man
Pronouns: he/him
Backstory: After his dad left and his overbearing mother started drinking even more, December found life at home as miserable as heavy rain in winter. From the poor part of Louisville, he already saw little future in an underfunded high school and a life of dead end jobs. He stumbled through youth until he graduated high school, and after a dramatic final night in his childhood home he packed his bags and left before sunrise.
He couch surfed in her friends' homes, slept in stairwells, and worked as a waiter until he could afford living in a co-op. Life was as steady as it could be, up until his older brother found his place and tried to convince him to come back to their mother's place — there was talk of a dangerous pandemic, and mom was getting sick. Family should be together.
December was furious. He kicked and screamed and fought as his brother tried to bring him to the car where their mother was waiting, thrown into the back and taken away to the miserable jail that was the festering pit of childhood. Locked in his old room that stunk of a hoarder's trove, moth-eaten clothing and suffocating mold.
He was trapped for all of two nights before their mother succumbed to the mysterious virus that Louisville tried to keep out. He broke out of her bedroom and climbed down a sheet rope, leaving his brother to fend against their turned mother. He ran as far as her legs would take him, grabbed what he could out of his newly-abandoned apartment, and made for the streets again. Shit was about to get worse.
Personality: Jaded and miserable but not necessarily malicious. December feels contempt for parental figures and people who try to control him. He wants to have friends and companions, but he doesn't want to be pitied or smothered by their concern. He's much more closer to girls his age than anyone else; he cares about the well-being of children, as well. 
She believes in found family and self-made futures. Her dreams have dwindled from her misery, but she still harbours hope. Most of her pain is from the reopened wounds of being kidnapped back to her old life and her new life being broken down by the apocalypse. He needs time to heal, and time to plan. December is like a feral cat; the process of trust is a slow and fragile one, and he still might never acclimate to domestic peace. He is cooperative but navigates his world like viscous water forced through a narrow creek; a rock in the gullet.
Appearance: Short reddish brown fluffy hair, grey-green eyes, round face. White. 5'7". Wide hips and narrow shoulders. Currently has his hair dyed green.
Topic starter
Posted : 16/04/2022 5:55 pm
The roll of treads on concrete and bits of rock. She hits the brakes and hears the gardening van grind in its tracks. The barrel aims down the road towards her, and then rotates, like a broken ride she caught in the glimpse of the dawn. She steps out of the van and crouch walks along the wall of the police station; she can smell blood and lots of it, deep in the soil and around the corner. The last remaining officer stands in the street and uses another woman with blonde hair and unblinking eyes as a crutch. The horde returns and without thinking she racks the shotgun she stole.
She was once kept in this station's holding cell; trespassing at night. The street is full of bodies and blood flows free. The tank crushes second-dead bodies and they make disgusting 'pop' sounds, like shotgun shells on train tracks. She pushes more rounds into the chamber and hears the officer exchange some sort of words with a man inside. They are as casual as they can be. She pulls the trigger until it clicks and feels her shoulders ache from the recoil. The blonde woman calls for the horde in German. A man climbs out from the tank with nothing but a pistol. The spring sun cooks the blood under her and she feels it begin to stick to her hands.
When she is sworn into the force there is a hundred dead witnesses and no bible. The man with the gas tank and tin foil arrives with the woman that is the same age as her mother is was is was was was. The armoured jacket she steals feels wrong so she washes it and it still doesn't fit. People keep coming. People keep coming and so do the dead. She robs the nearby houses and forces some sort of normalcy into the office she's made her own. It's not complete. She feels out of place, sleeping on a bed from a house whose owner left and never came back. The halls smell like marijuana and vinegar. She keeps syringes in her bedside table just so the ones who need to tie off have things in each corner of the building.

Nightfall; the shopping plaza is empty when they arrive and fills with company. A crowbar hooked on her shoulder like a lure in a fish; Majima to her left, Donahue to her right. She crawls through a shattered window to kill one creature just because it is knocking on the door and she knows knows knows they'll start coming again. There are always fists at her windows, boarded up and with empty bookcases blocking them off. When the horde is gone and they've found things to steal, she drives the van back. Glass shattering against a dented stop sign; she ties herself off before the blood from her forearm mixes with the blood from the dead. It pools in her lap as she finds her way through the station parking lot. There are four new people. She watches May get sworn in and sleeps in her bedroom for fourteen hours.
Topic starter
Posted : 19/04/2022 10:49 am
Four five six seven eight nine ten eleven ten eleven twelve thirteen fourteen fifteen. The halls fill up like a flooded basement, the unfamiliar taste of an office you've never been to washed out with burnt microwaves and used propane. There's work to be done and no one seems to want to fucking do it. She pushes carts of medicine to the back of the station into the bathrooms bleached into a hospital, nurse Keith keeping it as controlled as possible. She pushes stacks of furniture and skates down the road with May while the street is still clear. It's a barricade, just like revolutions make them. She drags the last of the stolen furniture in the rain when Saint wants to find something to do.
He's quick with the blade and she unhooks a cleaver off her belt with every street the walk down. They smoked on the drive and watched blood pool out of bodies and mingle with the rainwater. The crackle of a defective; an excursion in the mall, and one of their own roused the alarm. They try to thin the horde, but they burnt too much sunlight; her hand torch cuts through the darkness as fine as a blade, and her arms cannot swing fast enough. Her gun fits in her hands too well. Soft shells clicks, violent gun racks. Saint disappears into an auto shop; she runs and hops a fence. Her jacket rips. She rolls her ankle off a curb and drags herself into what was once a coffee shop. She cries for the first time out of rage with such suffocated breathing that she might have passed out. A failure to protect. It's not the blue that she wants to honour, but her pride — too much failure in her mouth that she hits herself until her face is hotter than burning bourbon.
Nhu gets buried but no one talks about it. She sleeps in one of the medical beds as Min organizes the boxes of medicine she stuffed into the fridges. He tells her not to put too much stress on her leg. She faces the wall away from him with the blue blanket up to the shell of her ear.
Quinn shows her the warrant for their first excursion. She limps along with her swollen right foot and wonders who they'll lock up, clipped and muzzled.
Topic starter
Posted : 22/04/2022 8:15 am
"Did you sing professionally back in China?"
"My family would listen to radio. Music is sometimes all I had."
"Ah. One of those things you make yours."
"Yes!"
She likes Min. He takes a beating like Sisyphus at the mercy of the Furies' whip. He sings and hums the way people spin in their kitchens during spring time. He blinks through violence with understanding instead of glee or malicious necessity, like May or Goro.
Lunging hungry hands reach for him when he's pumping gas into the tank. Her hand unhooks her belt cleaver as Min throws his elbow back at the once-human beast. There are not many — but they enter the parking lot one by one, a constant they cannot avoid.
A helicopter crashes in Victory Park — the woodlands nearby claimed in name by Saint and Omar. She counts her kills and stares at the painted wreck inside the trees. Eighty-four, with sore arms and bloody bloody sleeves. 
Topic starter
Posted : 25/04/2022 5:26 pm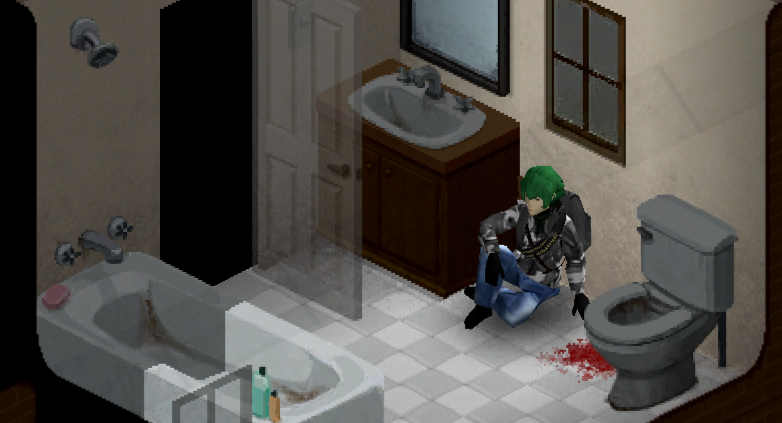 It hurts. It hurts. Fuck's sake.
The undead's nails are not sharp but they do not yield in their assault, slicing flesh and bleeding the anemic viscera until they can sink their teeth into the thin layer of skin into meat and fat. She sits in the corner crammed between a bloodstained toilet and an unwashed bathroom cabinet with her fist pressing a ripped sheet against her left wrist, the forearm she presses into the cabinet throbbing from its own wound. Blood fills her senses and she tastes it in the back of her mouth - she isn't sure if it's from her cracked nose or the nauseating bathroom tile.
Afternoon sun peeks through the window above her. She's in a neighbourhood she recognizes from her youth. Her heart pounds in her chest and reminds her even through her wounds of the misery luring her home. She knows there is a house full of her childhood corpse some streets away, shutting her eyes tight to the path she feels her legs carrying her down. She punches her bloody hand into the wall to dull herself to the pain now that the bandage is tied neatly. The window is thin and she can feel the fall breeze rattle it gently, a draft coming inside; she'd vomit if it was open, the streets heavy with its own rotten blood, spilling from her old neighbourhood and staining the corpses she's left in her own wake. Like two crashing tides of opposing directions, oceans with different salt contents.
When the pain subsides, she might be able to run out to her bike - if she's quick enough. The station is far on foot, not by vehicle. She whimpers through her teeth when the torn flesh begins to throb again, mutilated beneath a bloody rag.
Topic starter
Posted : 02/05/2022 5:06 am
A shop at the end of the world. Who'd have thought, who'd have known?
It's pouring rain and the walls are half finished. She was walking through the highway until she found a motorcycle. It's nothing like a car but it pulls into one of the spots without a hitch. The store glows with a light she could only describe as liminal, unnatural and at the cusp of being forgotten. It certainly isn't an unlooted shop; the walls are fresh cut wood and the lights inside look strong. The humming of fridges and air conditioning nearly give her a headache as she curls up against a plain white platform, dedicated to one of the nude mannequins stolen from a clothing store. She's fairly certain this was a car dealership with the way the tiles look and the windows are open, but she's not complaining about what brings shelter, food, and silence. Shame the owner's missing. The lights are on and one of the pop cans she siphons from the vending machine(!) doesn't taste flat. It's entirely likely she found this place when the owner was out.
She doesn't want to steal or nothing - instead, she pops out the batteries of the radios on display, turned on and set to the listless humming of public channels, and replaces them with a fresh pack she did steal from a house on the other side of West Point. In the back of the store there's a cafe, with packaged snacks still in their boxes and some canned food instead of fresh baked goods - but it's more comfortable and private than the soaking threat outside, shambling dead that have yet to catch her scent in the rain.
In here she sleeps. Outside there are corpses and lightning. She sighs against her swollen backpack and finds time to sleep.
Topic starter
Posted : 05/05/2022 5:41 am
THERE IS A PERIOD WHEN IT IS CLEAR
THAT YOU HAVE GONE WRONG
BUT YOU CONTINUE.
SOMETIMES THERE IS A
LUXURIOUS AMOUNT OF TIME
BEFORE SOMETHING BAD HAPPENS.
YOU'RE HOME FREE AS SOON AS NO ONE KNOWS WHERE TO FIND YOU.
IF YOUR CLOTHS CATCH FIRE,
DROP DOWN IMMEDIATELY,
ROLL UP IN A BLANKET, COAT, OR RUG
TO SMOTHER THE FLAMES,
REMOVE ALL SMOLDERING CLOTHING,
AND CALL A DOCTOR OR
AMBULANCE.
IT'S AN EXTRAORDINARY FEELING
WHEN PART OF YOUR BODY ARE
TOUCHED FOR THE FIRST TIME.
I'M THINKING OF THE SENSATIONS
FROM SEX AND SURGERY.
THERE IS A TERRIBLE PHASE WHEN
ABUSED ANIMALS OR CHILDREN ACT POLITELY
AND TRY TO DO EVERYTHING RIGHT.
BY THIS STAGE, THOUGH, THEY ARE SO
OBVIOUSLY WEAK AND UNAPPEALING
THAT THEY GET LITTLE RESPONSE.
IF THEY DON'T DIE THEY BECOME SAVAGE.
YOU CAN WASH YOUR FACE
UNTIL THE SKIN PULLS AND
ITS PRESSURE ON YOUR FACE IS
A CONSTANT REMINDER THAT YOU ARE ALIVE.
THIS IS A MILDER PRACTICE THAN
SMASHING YOUR HEAD AND CAN BE HELPFUL
IN THAT IT KEEPS YOU SENSITIVE.
HOW DO YOU RESIGN YOURSELF TO
SOMETHING THAT WILL NEVER BE?
YOU STOP WANTING THAT THING,
YOU GO NUMB, OR YOU
KILL THE AGENT OF DESIRE.
Topic starter
Posted : 05/05/2022 5:48 am
Topic starter
Posted : 23/05/2022 9:10 pm